Andrew Milbourne
Former head teacher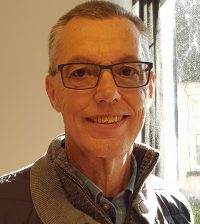 Andy enjoyed a long teaching career which included twenty years as headteacher of a Norfolk Primary School. He has a MA (Edu) and brings an educational perspective to the work of the Bikeability Trust.
As a headteacher, Andy was passionate about providing young people with opportunities to enjoy a variety of leisure pursuits. He encouraged children to cycle to school whilst promoting cycling initiatives, including Bikeability, to ensure that learning about the enjoyment and freedom of cycling was mixed with appropriate safety education.
Andy appreciates the joy of cycling alongside the environmental and health benefits. Following a liver transplant, cycling played a vital role in Andy regaining fitness. It was equally important as he recovered from a fractured hip, sustained refereeing basketball, in 2016. He continues to enjoy regular early morning cycle rides alongside his wife, Lorna and uses his bike for most local journeys.