Imran Hussain
Youth Worker and BAME cycling advocate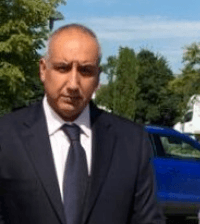 Imran has over twenty years as a youth worker working with disadvantaged and hard-to-reach young people. His experience includes fundraising and leadership roles, but he still enjoys developing new skills and being a member of a strong team.
He is passionate about the opportunities that youth work makes available to young people and communities. He advocates to ensure the rights of young people are promoted and upheld, and to endorse and create equality of opportunities for young people. He has many years' experience working with BAME communities and encouraging cycling.
Imran has a strong interest in the outdoors being a qualified Duke of Edinburgh instructor and assessor – a role that plays an instrumental part in developing young people and stimulating their creativity, growth, both physically and mentally.
He is a director of a voluntary organisation which work with challenging young people, as well as being a Bikeability instructor and a British Cycling Ride Leader. He enjoys being out on his bike, playing football and walking in the Yorkshire Dales.