Isobel Stoddart
Director of Promotion and Communications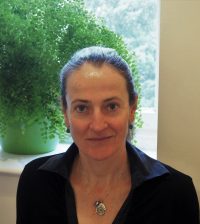 Isobel has been a keen cyclist all her life and has explored various corners of the world on two wheels, from Mongolia to Croatia. She enjoys all forms of cycling whether on a mountain, gravel or road bike.
Isobel has dedicated her working career to the promotion of walking and cycling. For eight years from 1994, she worked for Sustrans, the national cycling charity, as their South East / London Regional Manager.
In 2007, she worked for Transport for London when the Tour de France visited the capital, using the event to encourage more everyday cycling amongst Londoners. In 2010, she joined Cycling England to deliver a national research programme investigating the positive impact of leisure cycling. From 2013 to 2017 Isobel was the Development Manager for The Association of Bikeability Schemes which included organising five annual, national Bikeability conferences for the industry.
Isobel has enjoyed working on a wide variety of cycling promotional projects, both in the UK and the US, and takes pleasure in seeing the difference that being introduced to cycling can make to an individual's quality of life.