John Jackson
Business Consultant and Regular Cyclist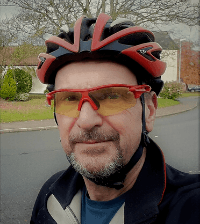 John gained a Ph.D. in Earth Sciences from UEA and then joined BP Exploration where he worked as a research petroleum engineer for a number of years before moving into their human resources function.
Now semi-retired, John was a business consultant who has also held a number of board-level positions, primarily in the pharmaceutical industry. He has broad experience of business operations with particular focus on human resources, business growth, organisational development, company divestments, acquisitions, and integrations.
John has been a regular cyclist all of his life – from cycling to school, riding with his family and riding for fitness, to socialise and to commute. He is Membership & Promotions Officer of his local Cycling UK group and has been active in campaigns to improve both cycle routes and rider safety. As such, he is well aware of the challenges facing everyone travelling on our roads as well as the challenges for those who manage and develop cycling infrastructure.
John has been actively involved in football coaching for many years and as a National Standard Instructor since 2013 he has been delivering Bikeability and 1-2-1 cycling courses throughout Cambridgeshire. He is passionate about improving the cycling knowledge and skills of everyone.