John Wann
Professor of Psychology at Royal Holloway College, University of London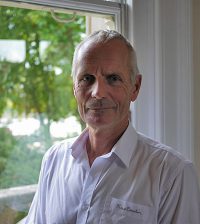 John Wann is a Professor of Psychology based at Royal Holloway, University of London and was Associate Dean for Science and Head of Psychology at RHUL and previously Head of Psychology at the University of Reading. His research has focused upon human error in road transport situations and this work has application to car drivers, motorcyclists, cyclists, pedestrians and especially children and older road users. He has a history of involvement with campaign bodies related to road safety & urban speed control and has acted as an expert consultant for legal proceedings arising from road accidents involving children. He also has input as a consultant for Transport Research Laboratory on a range of transport-risk related issues and sits on an advisory panel for vehicle safety enhancements for a major car manufacturer.
A full outline of my research impact activities can be found here: http://impact.ref.ac.uk/CaseStudies/CaseStudy.aspx?Id=30208.
Outside of his professional work he is a Level 3 British Cycling Coach and act as the Lead coach for a large youth cycling club in Reading as well as coaching individual elite junior riders.