Michael Frearson
Director of Development and Operations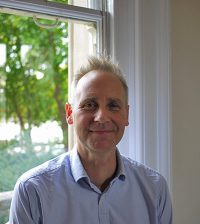 Michael first encountered Bikeability as a parent in 2010 when his eldest son came home from school with his Bikeability Level 2 certificate and badge. He trained as a National Standard Instructor the following year, before training as a National Standard Instructor Trainer. In 2013 Michael joined the board of The Association of Bikeability Schemes, where he served until 2015.
Michael has contributed to the creation of Bikeability promotional videos for driving instructors and for schools and families, and to the development of the current Bikeability award certificates and booklets. He has also contributed to research on the impact of Bikeability on children's cycling (with the National Foundation for Educational Research, 2015), investigated the economic impact of the bicycle industry and cycling (for the Bicycle Association of Great Britain, 2017), and designed the current Bikeability impact evaluation for the Department for Transport (with SQW economic development consultants, forthcoming).
Michael has more than 20 years' experience working with schools, further and higher education and work-based learning, mostly in public policy consultancy and professional practice research, development and evaluation roles.